I'm going to try and put together a list of the regular blog link parties I read/participate in. So the list isn't huge right now, but hopefully it will grow over time!
Wednesday
WIP Wednesdays with Tami's Amis
Join in and post about your current works in progress!
WIP Wednesday with
Ambassador Crochet
Yarn Along
with Small Things
Two of my favorite things are knitting and reading, and the evidence of this often shows up in my photographs. I love seeing what other people are knitting and reading as well. So, what are you knitting or crocheting right now? What are you reading? Take a photo and share it either on your blog or on Flickr. Leave a link below to share your photo with the rest of us!
Friday
FO Friday with Tami's Amis
Join in and post about your finished objects from the week!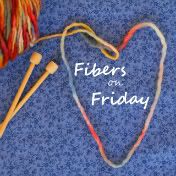 Fibers on Friday with Visions of Sugar Plums
Join in and post about any fiber art related topic.

A new link party for the weekends, hosted on Fridays at
Hooked on Handmade
.
Join in and post about ongoing crochet projects.