But I survived, and I know it was only a dream.
H.P. Lovecraft, Under the Pyramids, 1924
About a month ago
I began working on the
Cthulhu Beard Hat
for Jamie. As
previously documented
, this project drove me to the very edge of my sanity. After frogging and re-starting about four times, trying out different hooks, stitch counts and a variety of changes to the pattern, I finally discovered a way to make it work.
On Friday last week I sat down in the house alone, determined to make some progress on it once and for all. With Pride and Prejudice on in the background to help keep me sane, I tackled it once more. Using the recommended 5mm hook had come up way to small, increasing the hook to a 6mm didn't really help either, it was still coming out tiny. I had investigated other hats and their construction, which led me to try a base ring of 8 stitches instead of 6. None of these worked. Taking one final chance, I upped my hook to 8mm, and used two strands of the Sirdar Supersoft Aran held together.

Now it came out too big! Without Jamie's head available to measure against, I had to guess, using other hats he owns and deciding how much bigger than my head they were. It was a bit hit-and-miss, but eventually I got the right size by removing rounds 11 and 12, only increasing to 60 stitches.
I followed the rest of the pattern pretty much exactly, although I had to keep putting it on and taking photos of myself to check how it looked.
I did stop following the pattern once I'd finished round 35 (technically 33 for me, since I'd missed out two rounds earlier on), so didn't do the extra rows for the sort of skirty bit that goes over the back of the neck. I thought it would look weird.
I didn't fasten off though, and waited for Jamie to come home so I could check it fitted properly. Which it did. Once I'd fastened off and weaved in my ends, I did a round of single crochet around the eyehole, to make it more sturdy and look more finished.
Then it was on to the tentacles! They were pretty easy to get the hang of, although there is an awful lot of counting stitches required.
I love how they twist and curl. It's very clever.
Finishing off is just a simple matter of sewing the tentacles to the hat using the yarn ends. I did it while watching Star Trek: Voyager. Here's the finished hat:
and here it is being worn by Jamie for the first time: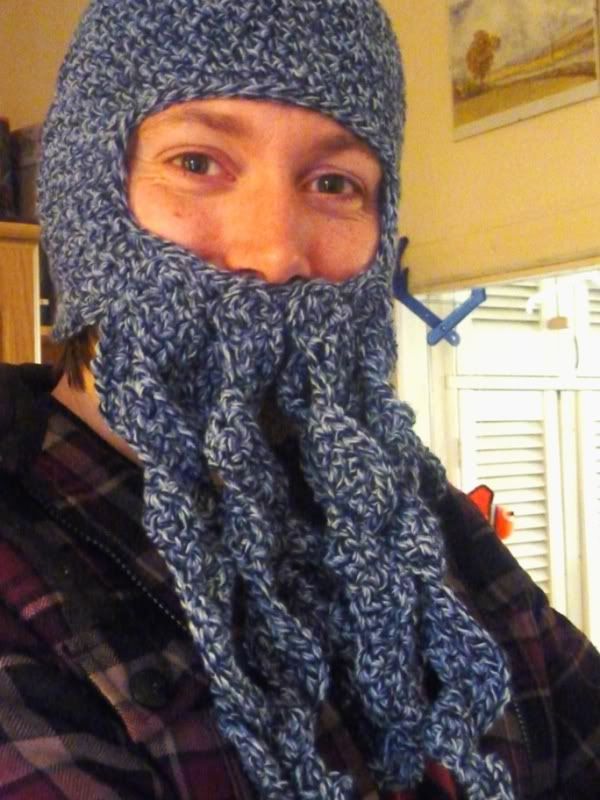 So there you have it. Cthulhu Beard Hat. I've had quite a few people asking me why I've made it. Why wouldn't you? It's awesome.
I have one other FO today, another project which almost led to my brain melting out of my ears. Unlike the hat, this one was sanity-draining because it got so dull. I actually finished it off 5 rounds early, because I just couldn't be bothered with those dc clusters anymore.
It's the round baby blanket!
All of the details are on the
project page on Ravelry
, should you be so inclined. The finished blanket is very sweet, but my god it's a boring pattern. I won't be making another one! Although I think if you did it in stripes, so had the added interest of changing colours every few rounds, that might make it a bit more interesting.
As it's Friday, don't forget to head on over to Tami's and Beth's link parties and see what else everyone is up to!