I've been working on my
Granny Rectangle blanket
since Christmas Day. Over three months ago, and the damned thing still isn't finished. My main problem hasn't been a lack of willingness on my part, I like working on it because it's so simple. The bigger it gets, the nicer it is to snuggle up underneath it while I work on it. Unfortunately, I'm not the only one who thinks this!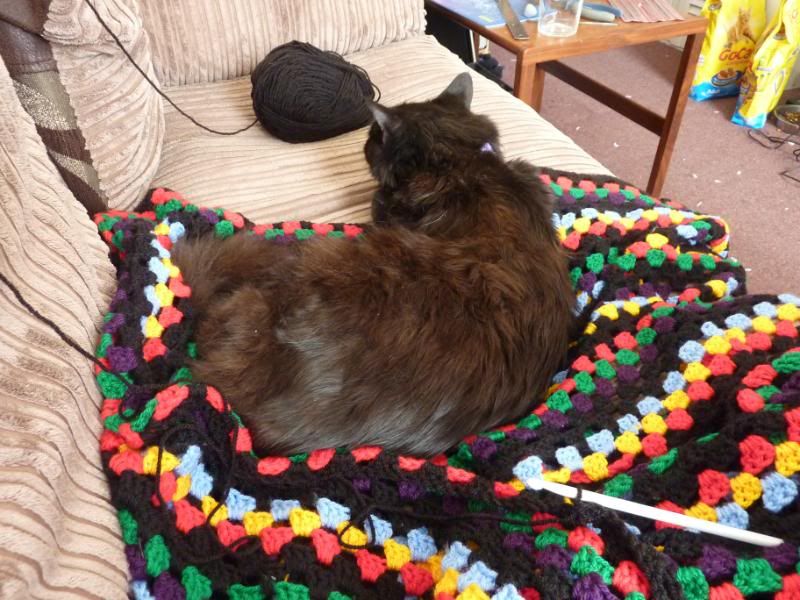 He may be cute, but he's incredibly annoying!
Every time I get this project out now, the cat appears and settles in. He's got a knack for sitting on exactly the wrong part of it, so I can only work on it for maybe five more minutes or so before I get to the part underneath his furry backside. I got particularly frustrated with him yesterday (yes, can you believe it, all that lovely sunshine and warmth outside and I was curled up on the sofa working on my blanket!), as I was so close to finishing the final round, and he plonked himself down on the one tiny part that hadn't been finished.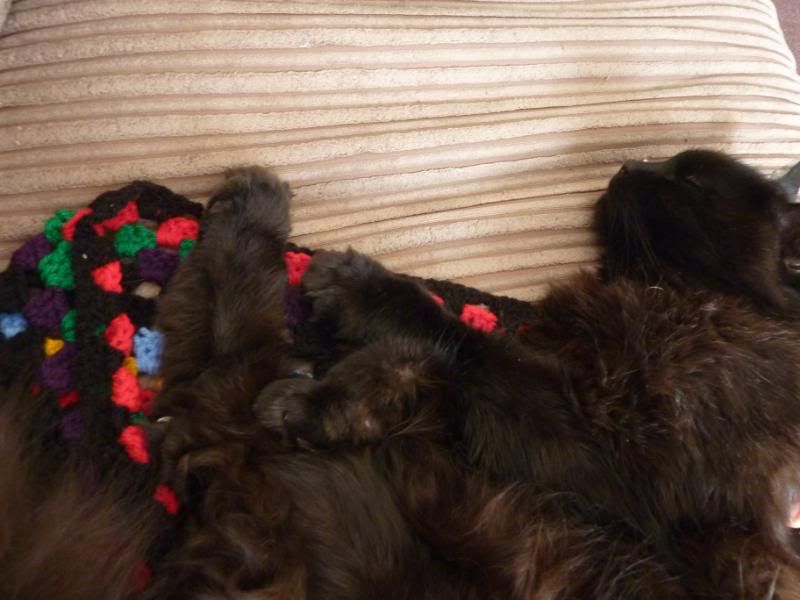 See that? That's the final corner. Do you think he wanted to move?

See! He sat exactly on the part where the rounds join!
He's so cute though, I can't bring myself to forcibly remove him.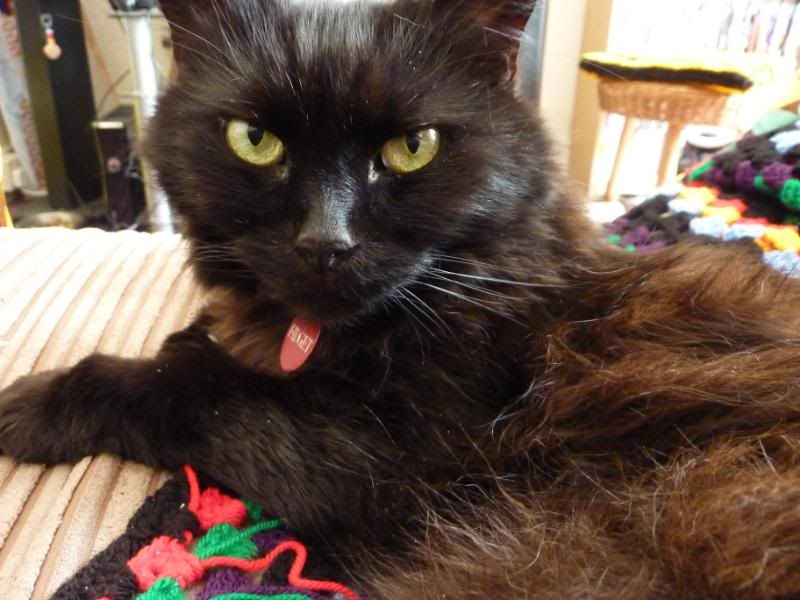 I just cuddled him until he got fed up of being disturbed; he moved further down the sofa and I was able to rescue my corner and get on with finishing the last round.

Please excuse the mess, I did a lot of shredding last weekend
and hadn't quite got round to hoovering up. I've done it now.
So it's gone from being big enough to cover the small two seater sofa, and now almost covers the somewhat larger three seater sofa. Definitely wide enough along the short edge, but I can't decide if it's long edges are long enough. Should have started with a longer chain in the middle, I reckon. As it is, if I want to extend it I'll need to do granny stripes on each end as I don't really want it to get any wider. But for now, I'll be happy to just weave in my ends and have it useable at last without a hook and a ball of yarn dangling off it!
I took it upstairs to lay out on the bed, so I could measure it. It's 55" x 72" as it stands. I think I'll have to test drive it on the sofa, to see if we all fit under/on it at the same time. It may need to be a bit longer to accommodate the cat curling up on it inbetween us and leaving us both enough blanket to be warm and snuggled underneath!