Yarn: Wollmeise Sockenwolle 80/20 Twin in Sonne WD
Needles: In a fit of uselessness, I don't appear to have recorded what size needle I used on Ravelry. I think they were 4mm.
I've had this Wollmeise in my stash for ages, over a year in fact. I bought the skein from a friend who was having a destash, having already fallen in love with the other skein I had previously bought on eBay. It needed the right pattern, as I wasn't sure how the colours would work once knitted up.
Then I found Momijigari. The samples are knit in a similar colourway to my Wollmeise, and I thought they would go together well.
I felt sure I'd made a good decision once I wound the skein and saw for the first time the length of the colour changes. Once I'd started knitting, I knew garter stitch was the right choice.
I flew through the main section, but hit a stumbling block when I realised I had to pick up and knit 195 stitches to start the border! Once the increases were done. I had nearly 400 stitches on my needles! The border was only 20 rows, but it took forever.
I was so pleased when I finished! It then sat in my basket for a week or so, before I finally decided to get the blocking boards out and start working through my pile of finished projects. This shawl was the obvious choice to be done first.
I cleared the dining table, and set up my alphabet blocks. I only just had enough to create the space needed for this shawl - it is a shade longer than my dining table which is five feet long. Two days later, and it was ready to unpin and weave in the ends.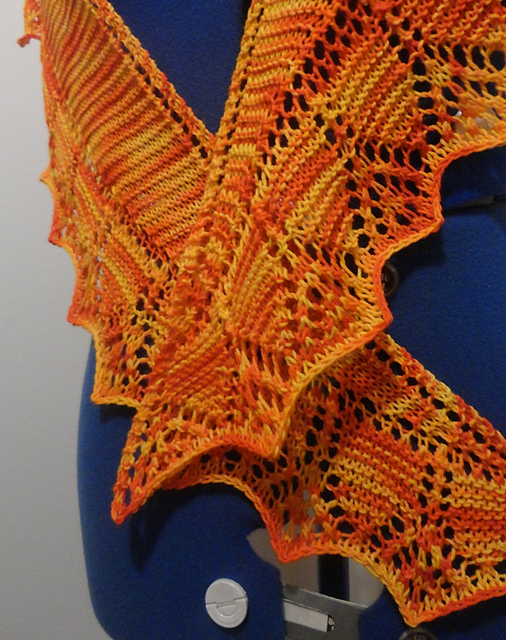 I love the finished article. Such a warm, bright colour; perfect for cheering me up through the dull grey winter months ahead. The Wollmeise is a lovely yarn to wear around your neck too. I'm also really pleased I found the white balance setting on my camera (all thanks to the lovely
Eskimimi
and her
photography tutorial
) as it meant I could take decent photos of it despite it being late and dark.