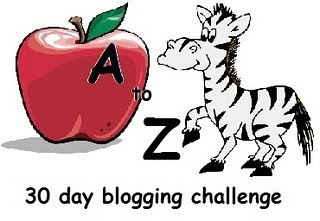 Okay, so Blogger is playing silly buggers this morning, which makes putting photos in posts difficult. Just as well I don't really have any for this A to Z update.
Science Fiction often goes hand in hand with Fantasy. You'll see them lumped together in all sorts of places, most obviously in book and DVD shops. But they are actually pretty different. Lumping them together kind of assumes that if you like one, you obviously like the other as well.
Now, while I do like a bit of science fiction, I'm nowhere near as rabidly obsessed with it as I am fantasy. Especially with books. I have hardly read any science fiction novels. I think I could probably count them on one hand, and even then the list would include things that aren't really
proper
science fiction, like the
Red Dwarf Omnibus
. I tried to read
War of the Worlds
once, after my brother gave it to me for Christmas, and I got halfway through before I gave up. Similarly, I haven't read all of Douglas Adams's
Hitchhikers Guide to the Galaxy
, either. I don't know what it is, but for some reason science fiction books don't fire my imagination in the same way fantasy novels do.
I do enjoy science fiction on the big screen, though. Quite a few of my favourite movies would be classed in this genre. I loved
Equilibrium
, for example. The recent run of superhero movies, quite a few of those are classed as science fiction.
X-Men
,
Transformers
,
Iron Man
and
Avatar
to name a few of my favourites. But the classics, I'm not so hot on. I didn't see
Star Wars
until I was seventeen, and I refused to watch the new movies for years because they spoiled my 19th birthday party plans (
The Phantom Menace
was released around my birthday, and the day of my party was the same day the SF&F Society decided to do a cinema trip, so hardly anyone was around to drink with me). I don't really see what all the fuss is about, with
Star Wars
. The idea is alright, but the movies themselves... well, they're pretty dull, aren't they?
Sci-Fi is a genre which translates really well to TV. As a kid I loved
The X-Files
, I was obsessed with UFOs and aliens for years. I also loved to watch
Star Trek: The Original Series
, even though it is cheesy and camp and has terrible sets, and Kirk is constantly taking his shirt off to punch aliens in the face. The other Star Trek franchises are ok,
The Next Generation
was a pretty good follow up to the original, but I didn't really enjoy
Deep Space Nine
all that much, at least in the beginning. Now we are re-watching
Voyager
all the way through, and for the most part it is quite good. I had no interest in
Enterprise
, though, and haven't seen any of it. The
new movie
, however; instantly became one of my favourite movies ever. It's awesome.
Surprisingly, there aren't many Star Trek themed patterns in the
Ravelry database
. Maybe when I get more time (so probably next year, given the number of projects I've challenged myself to do during the Year of Blogging from July) I will design something fun. It could be a new challenge for next year's list!