Before I get started, I just wanted to say a massive thankyou to everyone who has popped in to read and commented so far this week. It's been so much fun reading everyone else's posts, and I've certainly added more than a few new blogs to my reading list!
Today is all about Organisation. Tidy mind, tidy stitches is the official topic header. I expect we'll see quite a variety of posts on this topic today!
A place for everything, and everything in its place.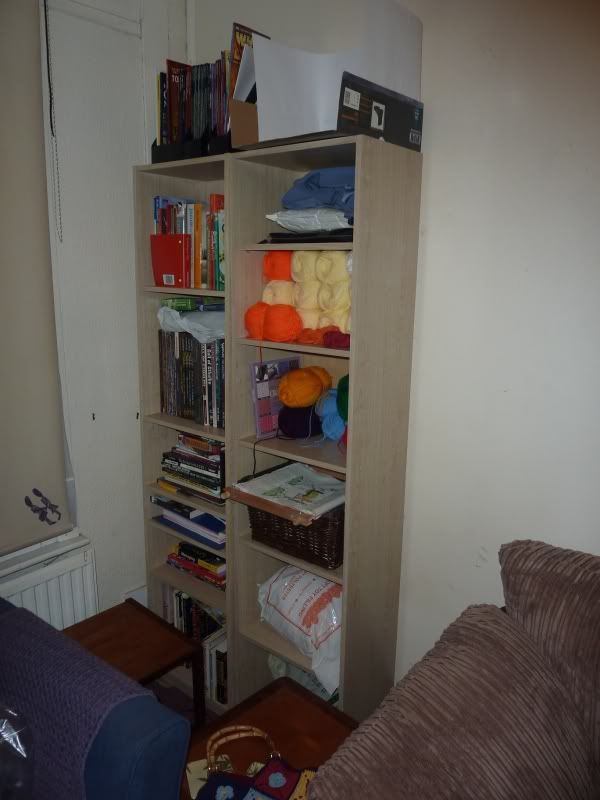 I like to think of myself as being quite an organised person. I like for everything to have a place. However, I am extremely messy and lazy, so once I have organised everything, it rapidly falls apart and becomes a mess again.
A place for everything, and nothing in its place should be my motto.
Of course, organising your knitting/crocheting is far more than just where it's kept. I have my nest, my area of the living room you see above, where I keep my yarn, books, tools and WIPs. It's also where I do most of my work, so everything is close to hand.
When I started out, I didn't have much to keep organised. I was working on one project, I only had the materials and tools needed for that one project. As time has gone on, I have built up a little mini stash of spare yarn, mostly leftovers. I have not yet got to the stage where I go into yarn stores and just buy yarn because it's pretty! I can't get my head around that. Of course, my collection of tools has expanded as the projects have come and gone, as I've needed a variety of different hook sizes and so forth.
Staying organised is really more about keeping on top of the projects I'm working on. I've gone a bit crazy of late; I currently have eight WIPs on the go, whereas before I would have maybe one or two. Admittedly, I'm only working consistently on one or two at a time, so a week may go by before I touch a project again, if I'm not in the mood for working on it.
Ravelry is a great tool to stay organised. I can keep track of my library, my stash, my hook selection, my finished work and my current projects. It's also a great planning tool. I've built up quite a queue of patterns that I'd like to have a go at someday. But because they're all in my queue, I don't have to keep remembering them. When I get to a stage where I want to start a new project, I can search my queue instead of the whole database.
Ravelry helps keep my stash in check too. Because of the yarn information on the site, I can easily narrow down my selections for projects where I need to substitute yarn. A lot of the patterns are American and suggest using yarns not readily available in the UK, so substituting yarn is fast becoming an essential skill for me. Searching through Ravelry means that when I finally get to the yarn store I know I'm only looking for one or two yarns, I don't have to search the whole shop, peering at ball bands and trying to remember what gauge I'm meant to be working at. I don't get distracted by pretty yarns that are no use to me, either, which keeps my OH and my bank balance happy!
One thing that does annoy me though, is when people don't bother using Ravelry's features to the full. I have to substitute yarns a lot, so it's really helpful to go through the finished projects and find ones using the yarns I'm thinking about using, to see exactly how much it will use etc. So often I see the projects without vital details, like how much yarn was used, or which hook size was used. Or people who say "I made some modifications to the pattern" and then don't say what they did differently! I try to make sure all of my projects contain information that is not only useful to me (e.g. keeping accurate track records of how much of a particular yarn I have left in my stash) but for other people. I want people to find my project pages helpful, so I make sure they contain all the information I would want to see. I just wish everyone did the same.
And of course, keeping track of everything's progress via WIP Wednesdays

and FO Fridays means that I stay on top of my active projects, and make sure everyone gets some attention at least once a fortnight, to save on embarrassment when I have to announce for yet another week "I still don't have any FOs to share"!
Don't forget, this post is part of KnitCroBlo Week, search in Google for "2KCBWDAY3" to find out how my fellow bloggers keep their crafts organised. Who knows, might all learn a thing or two from each other today!