If I was more organised, I'd sort out my FO Friday posts on Thursday evenings, so they could go up at a sensible time of day. As it was, I've had to wait until I got home from work and swimming, as I still hadn't taken any photos of the Purple Valentine!
So, I have three FOs to share today. Let's dive right in.
Project: Purple Valentine
Yarn: Hayfield Bonus Aran in purple heather colourway
Hook: 4mm
Just a quick amigurumi to pass the time! I have a fair amount of this yarn left over from my sofa decorating, so I'm always on the look out for cute little projects I can use it up in. The heart is about 6 1/2" wide.
Project: Elephant Pillow
Yarn: James C Brett Top Value DK in yellow
Hook: 5mm
This one is another baby present, this time for my colleague Nic who is due in May (a good chance the baby will be born on my birthday!). She is having a boy, but told me recently the nursery will be white, with an Elmer the Elephant theme.
For those unfamiliar with him, Elmer is a patchwork elephant who features in a series of British picture books for children. He looks like this: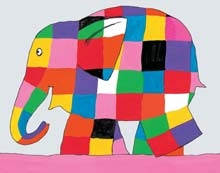 Patchwork was perhaps beyond my limited expertise and yarn supplies, so I just went with a plain elephant. I used two strands together to get an appropriate thickness/weight of yarn, as the pattern calls for chunky yarn and all I had was DK. It worked really well, as I got strong, tight stitches which form a sturdy, but still soft, surface for the cushion. I had toyed with the idea of buying a small pre-made pillow to put inside, but didn't get around to it and just used normal polyester toy filling. The pillow is wonderfully comfy; I am sure it will be well used and loved.

Project: Purple Pachyderm
Yarn: Hayfield Bonus Aran in purple heather colourway
Hook: 4mm
Another elephant ami, this time a small toy. He's only 4 inches long, not including his enormous trunk! He is going to be gifted alongside the elephant pillow, to live in Nic's nursery.
I had a lot of fun setting up the photo for this elephant. Following the success of photgraphing my Clown Fish against an underwater scene, we thought we'd try for African Savannah with this one. I think it's come out quite well!
I know it's FO friday, but I can't resist giving you a sneak peek at my new project, hooked last night using my new King Cole Zig Zag yarn.
It's not as bright as I was worried it would be, and it's striping quite nicely at the moment. Definately a better choice for my project than the Wendy Happy would have been, it's a lot easier to work with.
There are some lovely FOs on display this week elsewhere in the blogosphere; head on over to
Tami's blog
and find them all there.