I'm actually really excited about this post today. You can tell, because I'm posting it in the morning, having made sure all the photos I wanted were already online last night. No waiting around till this evening for me!
Plus, it's roleplay night tonight again this week, so I won't have time to do it later.
The super secret project is still
technically
a WIP, but it's finished to the point of just needing to be blocked. Nothing new to share here, though, as any photos showing progress would give away too much on the project. As ever, though, you can check out the
project page on Ravelry
; I will upload the new pics tonight for this one.
I'm a little nervous about blocking it, though, if I'm honest. I've never done it before! I'm so scared I will somehow ruin it. With lace projects, is it advisable to block first, then weave in ends? Only I've seen on the absolutely incredible "
Blocking - before and after
" thread in the Ravelry forums how much lace projects grow when blocked, and I figure if you've already weaved in ends, that's going to restrict the growth somewhat? That said, I'm more nervous about blocking the Avalon top when it's finished, as that's 50% wool, 50% acrylic. I guess I have to steam block that.
More exciting, however, is the progress on the
Avalon top
.
Last week
I was working on motif 5 (out of 7), so didn't really feel like I'd got very far. Work on it had been slow, as I'd been focusing more on the secret project, as I have a deadline to meet on that one. But I took it along to roleplay night last week, and made some good progress. I finished off the motifs (joining the final motif and closing the yoke was... interesting, to say the least).
Here is the yoke at that stage, seven motifs joined and the three round top yoke edge completed. At this stage, the pattern said "weave in all ends now" and I put off working on it for another couple of days, returning to the granny rectangle until I built up the courage to continue. I hate weaving in ends.
But last night I was determined, I had the house to myself most of the evening as J was driving back from his parents' house. If I'd thought about it, I could have gone along to the local knitting group and finally met everyone, but it didn't occur to me that it was Tuesday until it was too late to think about going. I put on some mindless TV (the Channel 4 program about cosmetic surgery obsessed people being confronted by people with facial disfigurement, part interesting, part freak show telly. Compelling viewing, actually) and got out my tapestry needle.
Weaving in the ends wasn't as irritating as I thought it would be, actually. Very quickly I was done, and able to move onto the lower yoke section.
I had some issues with the fsc underarm bits, but managed to get my head around it and get it done. I only had to rip back the once, when I got to the second arm hole and realised I'd only skipped 9 ch5 spaces instead of 10 on the first one!
I finished last night halfway through the final round before the main body pattern repeat starts. So one armhole is not complete:
While the other is:
Once this row is complete, that's all the complicated bits done, I think. Now it's just a case of repeating the body pattern row until the top is long enough, and doing the border at the bottom (a repeat of the arm of the motifs), and then doing it again (albeit with far less stitches) for the arms. Having my dressmakers dummy is making it a lot easier for me, as I can check to see how it looks without putting it on and having J take pictures, plus it gives me somewhere to store the WIP where it's not going to get lost/damaged/dirty/be in the way.
And I think it's quite an interesting decoration for my living room!
One more WIP today, I've started on my first ever pair of socks. I had a lot of sock yarn left over from the super secret project, more than enough for a pair of socks. I'm using the
Ultimate Crochet Sock
pattern, which I discovered while searching other finished projects using the King Cole Zig Zag. The specific Ravelry project that caught my eye was
Takara's First Sock Attempt
, which uses a similar colourway to mine. I haven't started a project page for them yet because I'm still unsure about them, but here's some pics to give you an idea of how it's going.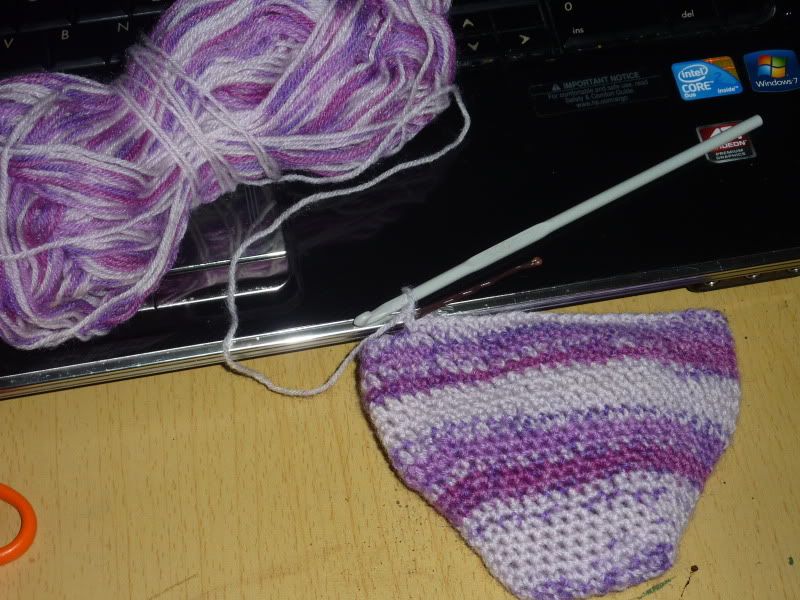 They look quite an odd shape, but I've tried them on over my toes already and they don't look so weird once they're on. I'm doing the largest size, which I think may be slightly too big for me, so these may end up being socks for J. I need to measure his feet and find out.
So that's my rather exciting WIP update done for the week, head on over to
Tami's blog
and see what else everyone's been up to.