I hinted at it on Wednesday, so without further ado I present this week's finished object - my Tree of Life cushion!
Pattern:
Tree of Life Afghan
(crochet) from
Lion Brand
Yarn:
James C Brett Top Value DK in pale yellow (100g)
Hook:
4mm
I decided to make a cushion to go alongside the
round baby blanket
I'd already made from this yarn for my friend's baby, as the blanket (when finished) was slightly underwhelming. I've been eyeing up the Tree of Life pattern for a while, because the overall effect of the afghan is simply stunning, although all the versions I'd seen of it on Ravelry had been knit. So when I discovered a crochet version, I knew I had to make it.
I opted to use only the tree chart, and to make up two individual panels of just one repeat, which I could then crochet together to form a cushion cover. The first side took me a little while, as I found it was very tricky to follow only the chart or the written instructions. The middle sections, where there are lots of branches crossing each other is particularly intense; you have to keep your wits about you to keep track of stitch count, to work out which stitches to crochet into to get the post stitches to lean in the right direction. By the time I got to the second panel, I was crocheting like a pro, so whizzed through side two in record time.
Rather than use toy stuffing, like I'd used in the
Elephant pillow
, I thought this one would work better with an actual pillow inside. Unfortunately, the tree chart doesn't come out exactly square, so finding one to fit was a bit of a challenge! After a fair bit of searching on Tuesday afternoon, John Lewis came to the rescue as I managed to find a soft, squishy,
machine washable
pillow that could be made to fit. My panels came out 10" x 10.5" (approx), but the smallest pillow I could find was 30cm square, which is almost 12". Luckily, it's a very malleable pillow, so I managed to squeeze it in.
I only made some minor modifications to the chart. Instead of working into a foundation chain, I just did 48 foundation single crochet, so I'd have a neater edge for crocheting together at the end. To prevent the panels from getting too tall, I left off the final two rows of the chart (rows 54 and 55) and replaced with a row of plain single crochet. When I finished the second panel, I didn't fasten off, and just moved straight into joining the panels WS together with a round of single crochet through both panels, doing one sc in each stitch on the top and bottom, and two sc in the ends of the rows down the long sides.
So there you go. I'm very pleased with the cushion, I'm sure it will be well received.

I don't have any suitable bushes for artful draping of blankets over, sorry
I even dug out some ribbon to tie them up neatly ready to go to their new home.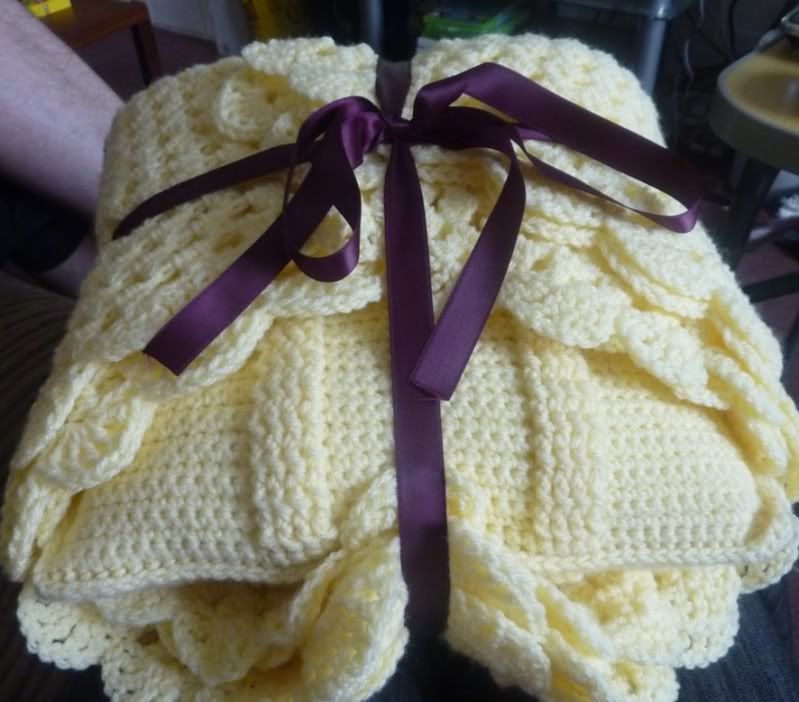 To see what else has been finished this week, check out the linkup over at
Tami's blog
.