In my quest to find a suitable quotation relating to today's post to use as a title, I found the above quote by Oscar Wilde, which made me laugh.
I have made a deplorable lack of progress over the last week or so. Partly this can be attributed to me having far too many projects on the go, and nowhere near enough time spare in which to work on them. I was away all weekend having fun in a field, you see. Sadly my camera remained packed away - I always seem to be too busy playing the game to take photos.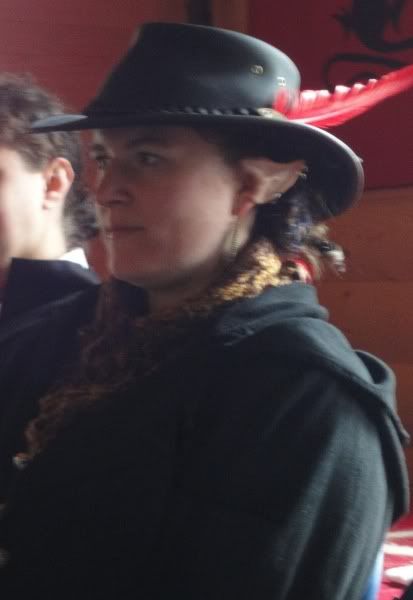 Slightly blurry photo courtesy of my friend Rich
What you can see from the one photo of me I do have, is that I took my
crochet lacy wrap
to the event and wore it as a scarf, secured with a cloak pin. I would have frozen to death if I hadn't taken it, so I am very glad I made the last-minute, spur-of-the-moment decision to steam block it on Wednesday evening last week, and chuck it in the bag.
I had intended to bring my
leafy fingerless gloves
to the event as well, to prevent my hands from getting cold in the chilly November evening mists, but they haven't really progressed all that much! I am still getting to grips with the DPNs - I realised after a little while that my tube of knitting was inside out, and have been struggling to get to grips with the idea of working with the needles in a slightly different orientation. But we'll get there. I have almost finished the second pattern repeat on the first glove, and will soon be working the thumb. As I have four months before the next LRP event, I am sure I will have them finished in time!
Mostly my craft time has been focussed on
Rosie's Rosie Rabbit
and the
Poncho
. All of the pieces for the rabbit have been crocheted and stuffed; all that remains is to weave in ends and sew the thing together. I am hoping to get that done next week, as I have a week off work and intend to be very productive during it. I am up to 54 motifs for the poncho, so definitely heading towards the halfway point on that. It makes for very effective roleplay night crocheting, because I no longer have to pay any attention really to what I am doing.
And now you see why I am quoting Oscar Wilde today. My books of choice for the last couple of weeks have been classics. I picked up Jane Austen's Northanger Abbey and Oscar Wilde's The Picture of Dorian Gray in a charity shop. Both are books I'd wanted to read for a while, but didn't own. Northanger Abbey was an odd read; it's quite different to the other Jane Austen novels I'd already read, which I am mostly attributing to the fact it was her first novel. I still prefer Pride and Prejudice, Sense and Sensibility and Mansfield Park, although I have yet to read Persuasion.
Dorian Gray I wanted to read for slightly different reasons, as it was more a book I felt I ought to have read by now. I have enjoyed reading it, but I doubt it will become a regular feature in my list of books I read repeatedly. I wanted to make sure I'd read it before watching the most recent film adaptation of it though, because I didn't want my appreciation of the book to be skewed by the film. Having finished the book, and read the plot synopsis for the film online, I am glad I did, because it seems like they changed it quite a lot! I will probably still watch it though; mainly because Colin Firth is in it. I loved him in The Importance of Being Earnest. This was my first time actually reading Oscar Wilde, so it took me a little while to get used to his writing style. I also found it very strange reading a book from such a male perspective, if that makes sense!
For purely fiber arts WIP updates, head over to
Tami's
; to see what folks are reading as well as working on, you'll want to head over to
Small Things
.