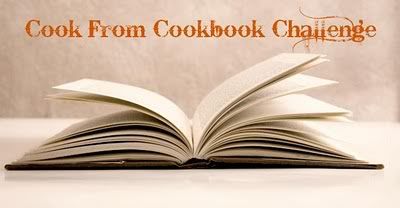 With my busy weekend last weekend, we didn't really do much cooking at all this week. We didn't even manage a proper food shop! So this week I've made up for it with not one but two planned meals inspired by the books on my shelf.
Personally, I think that Sunday's dinner was a little bit cheaty, since the book I pulled from the shelf was Gary Rhodes Keeping it Simple.
Jamie floated the idea of roasting a chicken, so we had a flick through to see what suggestions Mr Rhodes had.
This caught my eye, and we decided to give it a try.
Now I'm no stranger to roasting a chicken; usually we just slather the chicken in butter and season with salt and black pepper. Occassionally we'll stuff half a lemon and some tarragon into it as well. But we'd not tried paprika before!
It looks just like the picture! Burnt bits and all!
I have to say, it smelled divine while it was cooking (although our oven is incredibly smoky, so we had to keep all the internal doors closed and the back door wide open, so most of the lovely smell went straight outside!), and tasted really good! You could really taste the paprika flavour in the chicken. I'm quite interested to see what difference the paprika flavour makes to our dinner tonight, as we use the left over chicken to make risotto.
We served it with salad and Charlotte potatoes, which we roasted in olive oil and seasoned with white pepper and paprika.
Nom!
I've got a baked fish dish planned for Friday, so check back later in the week for another Cook from a Cookbook post!