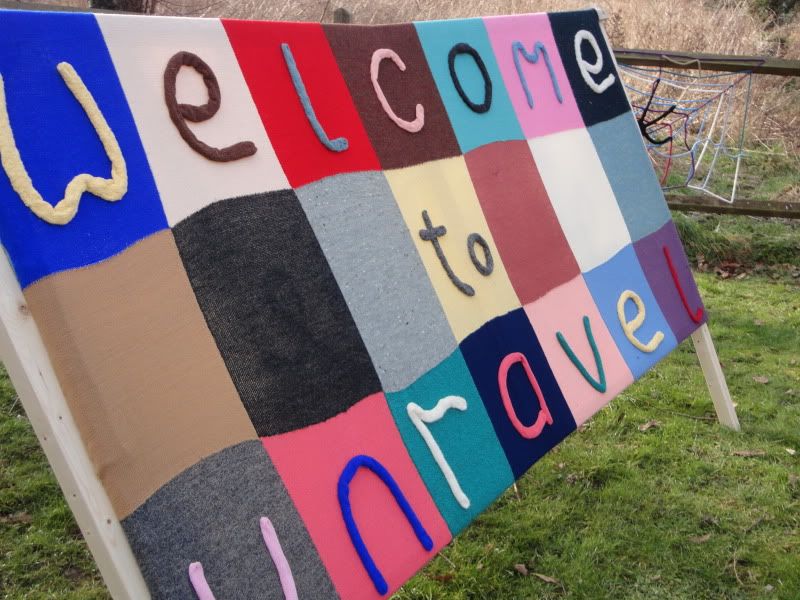 A little while ago, I saw someone mention
Unravel
and thought I might fancy going along. After all, Farnham is only down the road from us here, so it seemed rude not to go along! I convinced two of my friends to go along with me, so I wasn't going by myself. None of us really knew what to expect.
After frantically finishing my fingerless gloves on the Saturday morning so I could wear them along (after all, it is important to show of your own hand knits at places like this, right?), Sunday was actually a really lovely warm day; too hot for gloves! I compromised, putting them in my pockets "just in case" it was cooler there than it was at home and instead relying on my
Jane Austen shawl
(worn as a scarf) to demonstrate to my fellow show-goers that I was a
serious
crafter. Of course, it being too warm for a coat, I then undid all of that pretentiousness by wearing a black cardigan from Primark.
Knitted balloons!
The local knit groups had been on a bit of a yarn bombing drive in the previous week, so Farnham was covered in yarny treats, particularly in the direct vicinity of the venue.
Look! Crocheted yarn bomb!
As expected, I spent a lot of time ooohing and aaahing over beautiful displays of yarn in a wonderful rainbow of colour.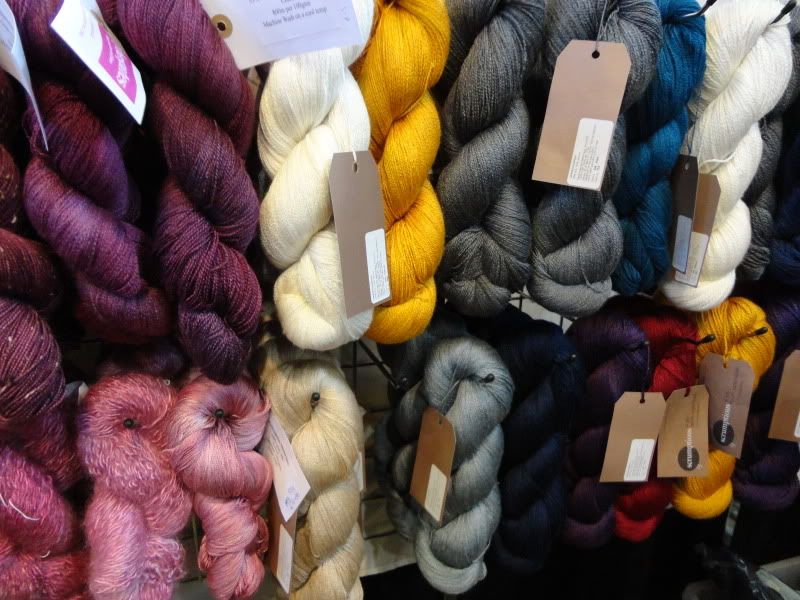 Fyberspates. I may have stood here for a while, wondering if I should
buy anything or if it was too expensive for my tastes.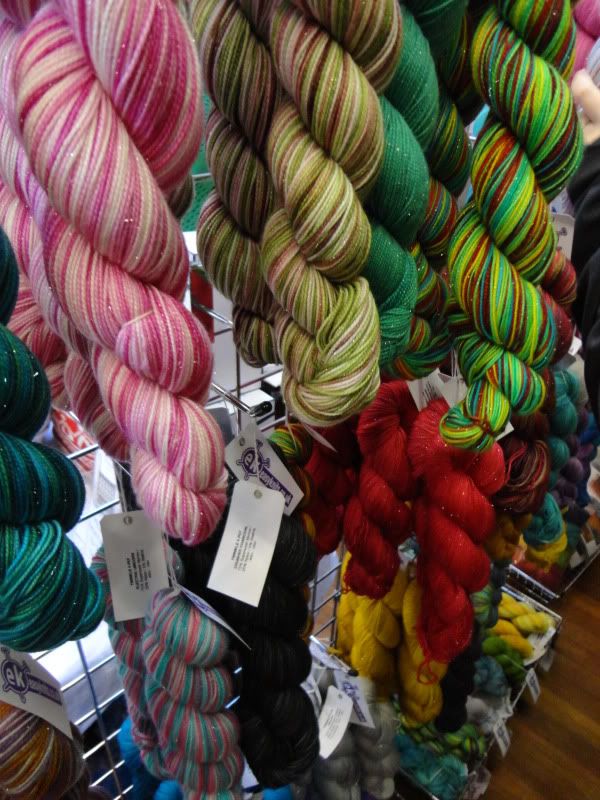 Easy Knits. I just love the green in the top right corner.
I was incredibly tempted by almost everything that I saw, and spent almost as much time trying to get Ravelry pages to load on my phone as I did fondling skeins of yarn! As you all know, I am not a fan of buying yarn without a Plan for it. After much consideration, I only bought one ball of yarn. This one:
My very own Zauberball
After seeing Chrissy's latest
FO on Friday
, I decided I wanted to follow her lead, and knit the same shawl. Looking through the many projects on Ravelry, it became clear that Zauberball was a great yarn choice for the pattern, so when I spotted a basketful on a stall I knew I was going to walk away with some if they had the right colour. I'm sure you would have all expected me to plump for a purple or pink selection, but I just love this blue/black combination and think it will really work in that shawl.
Of course, we found time for cake!
The other highlight of the day, besides all the wonderful yarn, was meeting Sarah from
Crafts from the Cwtch
! Sarah was rocking her newly finished Hitchhiker and I have to say, it looks just as fab in the flesh as it does in her blog photos.
I think the main thing I have taken away from my trip to Unravel is now I know which of the "posh" yarns I read so much about are worth my time! I know which ones feel nice, which ones have the best colours... I also developed a new appreciation for natural colours, as the display from
Toft Alpaca
was wonderful (and I want to fill my house with their
alpaca pom poms
). I can see myself making purchases from them and from
Nude Ewe
in the future!
Olympia
is too soon after this one to warrant the additional expense of travelling into London, but I'm going to try and make space in my calendar to go to
Alexandra Palace
in October.